Joe Bozzi - his story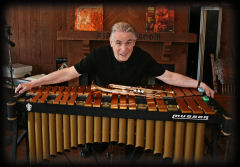 If Joe Bozzi's Italian father had had his way, Joe would have played the cornet. Italians aspiring to musical heights played cornet and attended the Scala de Milan Music School, Bozzi said. Though he never played an instrument himself, Bozzi's father wanted his son to get a start in the drum and bugle corps sponsored by his World War I Veterans' Group. He tried to sign Joe up when he was only 8 or 9, but the group wouldn't let the boy in until he was older. When the elder Bozzi threatened to quit the veterans' group, the bugle corps leaders relented. Bozzi experienced the thrill of blowing a brass instrument.
Hearing Harry James belt out classics later on at the Casa Loma Ballroom, Bozzi got hooked on the trumpet. A salesman at a local music store encouraged the elder Bozzi to let Joe play what he wanted. "He said I'd do better playing what I like best," said Bozzi. "That's certainly been the case. Trumpet playing is my passion." He espouses vibraphones too, since he first started playing them in the 1970s. He's one of a handful of area musicians adept at the instrument.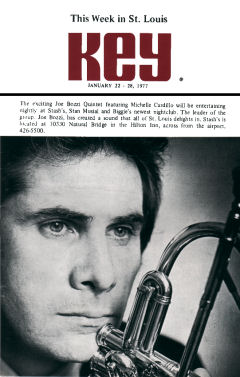 Joe Bozzi is best known for wowing crowds at the old Playboy Club at Vandeventer and Lindell Boulevard. During the club's heyday in the 1960s, Bozzi backed up musical icons like trumpet player Dizzie Gillespie and saxophonist Cannonball Adderly.
Popular entertainers such as Johnny Carson and Bill Cosby appeared regularly during Bozzi's tenure in the band.
In that same period, he played for the Rat Pack, the corps of crooners including Frank Sinatra, Dean Martin and Sammy Davis, Jr.
"Performing at the Playboy Club was a premiere job for musicians," Bozzi said. "I learned a lot in those days, backing all kinds of wonderful singers, comedians and others."
While at the Playboy Club, a pair of wealthy fans asked him to make a record. Working with local songwriter Frank Daniels, Bozzi made a demo that won him a contract with Decca Records in Hollywood. Dubbing him "the Italian Herb Alpert," Decca Records boosted Bozzi's reputation here and throughout the country. Locally, he was a favorite on the old Charlotte Peters TV show and on Jack Carney's program at KMOX radio.
Before the Playboy Club, Bozzi had played at the infamous Club Imperial on Goodfellow. During that period, the club's owner, George Edick, recruited and groomed some of the future legends of the music set, including Ike and Tina Turner, Chuck Berry and Louis Prima. Edick asked Bozzi to move to his new club at Gaslight Square called "The Roaring Twenties." Bozzi became entertainment director there, backing the Van and Skink act, a pair of vaudeville comedians, with Dixieland music.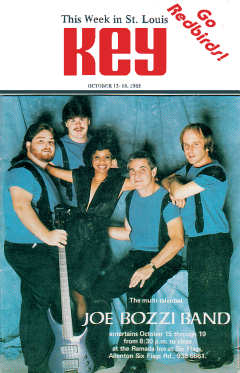 On the side, he honed his signature style, a blend of traditional and modern jazz, with sometimes smooth, sometimes rapid syncopation.
Joe was also a headliner at many of St. Louis' finest venues, such as Stash's, Stan Musial and Biggie's nightclub where Joe and his quintet played nightly (see cover of the Key magazine on the right).
Joe's music style varied with the times and audience. Rock and Roll was the rage during those times, and Joe's bands were among the best at that genre (click here for a newspaper article). While Joe and his musicians can still play virtually any type of music, they especially excel with jazz numbers.
Bozzi obtained his B.A. in musical education from the St. Louis Institute of Music, forerunner of CASA. He's married to the former Marsha Hughes. The couple has four children and several grandchildren.
Bozzi taught music and led the band at St. Thomas Aquinas-Mercy High School (now Trinity) in North County for 32 years. He currently teaches at Holy Infant, St. Alban Roe, Pillar, St. Ferdinand, and St. Margaret Mary Alacoque schools.
"I'm proud to have passed on to my students the musical knowledge I've gained," said Bozzi. "Playing and teaching keeps me going."
Text taken from an article in the Webster-Kirkwood Times